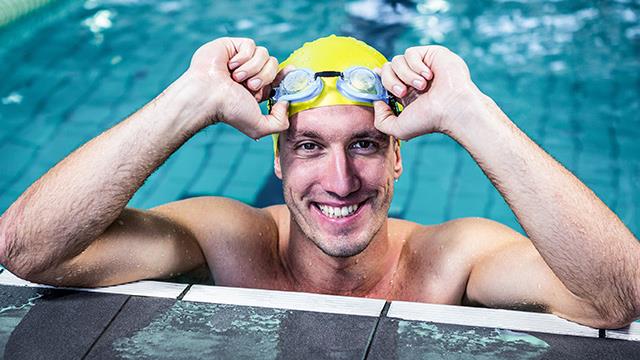 MWR Aquatics
The Navy Morale, Welfare and Recreation (MWR) Fitness Program aims to create "Fitness for Life" for the entire Navy community, including active-duty Sailors, family members, retirees, and DoD civilians, contributing to overall Quality of Life.

---

NASNI: VADM Martin Pool: The outdoor Pool, located on Rogers road Bldg. 1507, is 50 MS by 25 Yards with graduated depth from 3.6-7 feet. Lanes available for lap swimming, Chase lounge chairs, table with umbrellas. American Red Cross Certified Instructors offer the Learn To Swim Program for a swim schedule, view available downloads at the bottom of this page.

Beginning Aug 28, recreation and lap swim will be available all day.
Share lanes when pool becomes crowded.
Utilize circle swim method when three or more swimmers in lane.

Address: Rogers Road, Bldg. 1507 | Phone: 619-545-2877 | Hours: Mon-Fri: 6:30 am-4:30 pm. Sat-Sun, Holidays: 10 am-2 pm.
---

NAB: Pool: The outdoor pool is 50 m by 25 MS wide a graduated depth from 3.6 to 12. Lanes available for lap swimming, The Pool also serves the military Trainings, Physical readiness Training Requirements and 2nd class Swim Qualifications.
Address: Bldg. 508 | Phone: 619-437-5012 | Hours: 6:30-8:30 am, 11 am-1 pm, Closed: Sat, Sun and Federal Holidays
---

Our Customers: All Pools free to active duty, their dependents, DOD employees, reservists, and retirees, sponsored guests are $3.00 each. Children 16 years of age and under must be accompanied by, and under the direct supervision of, an individual whose minimum age is 16 years. Children between the ages 10 and 16 years old must pass a swim-test to use the facilities.
---
Swimming Lessons: sessions will be held on the following dates at Vice Admiral Martin Fitness Complex Outdoor Pool. Private swim lessons are offered year round or as WSIs are available, fees for group lessons are $25.00 for 4 sessions. Private swim lessons are $50.00 per session of package of $75.00 for a Package of 2 sessions.

Sep 16,17,23,24
Oct 14,15,21,22
Nov TBA
Dec TBA
30 minute private lessons are held from 8-10 am
---
Swimming License: Children ages 16 and under are eligible for a junior swimming license. Swimming license allow children to swim alone but only with parents close by. Completing the swim test, a parent must accompany the child at check in and must remain inside the gates throughout child's stay. When entering the Pool, the staff at sign-in must check the child's swimming license a disposable wristband.
A swimming license form must be accompanied legibly by the parent/guardian before the test is given upon successful completion of the test, children will receive a swimming license card and wristband for the rest of the day, the swimming license must be shown each day in order to receive a disposable wristband issued the time of check-in. If they forgot the card, they must retake the test. The child's parent or legal guardian must be present at the pool when the test is administered.
Swim Test:
To receive a swim license, children must take and pass a swimming competency test.

Swim Test Criteria:
Complete the test without stoping, holding wall or lane line while in the watar
Jump into the deep-end of the pool, fully submerge, return to the surface and immediately begin treading water keeping the head (chin, mouth and nose) above the water for 60 second.
25-meter front crawl without touching or pushing off the wall. Head must be in the water, breathing to the front-to-side, with full extension of arms on each stroke.. Swimmer may not pause or stop.
Swimmer must exit the pool without assistance. Using either the wall or the pool ladder.
---

LTSP: American Red Cross swimming lessons are $25.00 for the first initial sessions, then sessions are $100.00 for any subsequent 4 sessions. Sessions are conducted on Saturdays (Please see class schedules) instruction program levels:1-6, Preschool Aquatics and adult are offered.
---
Special Events: Special events hosted by MWR Rec Committee are held at our pools throughout the year. The pool may be closed for recreational and lap swimming during some of events.